Tapas & Vino
Tapas & Vino is located on the bar-street (Suur-Karja str.) of the Old town in Tallinn. Recently opened wine-bar, meaning snacks and wine in english, is actually a cozy and quiet place as opposed to its neighbours, Nimega and Nimeta bar and Avenyy.
It's not a restaurant, so don't go there being very hungry. The menu is out on the counter: some mushrooms, beans, salmon salad, lamb and bacon rolls. Mediterranean olives and tuna pie. From these things, you can mix and match your own tapas plate for 60 kroons + you can have free grissinis (italian snack breads) with wine.
Fortunately the wine list is a little-bit longer, I think more than 100 different names. 4 reds and 3 white wines are sold by glass (40 kroons). The selection is quite good, something for every taste. If you'd like to have beer instead, there's 3 choices (Saku, San Miguel and I can't remember the 3rd one).

Tapas & Vino is a place to go when you're planning a romantic date or just a quiet night-out with friends. On weekends they have live-music and a possibility to dance, on other days they play some jazz or easy-listening.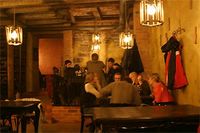 Tapas & Vino, Veinimaailm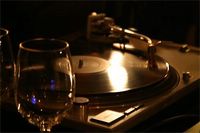 Tapas & Vino, Veinimaailm