Memories of last weekend
Went to Cafe Angel (in Sauna street) for lunch. Since I really love mushroom soup, I am currently trying to find out, where do they serve the best in town. Well, definately not in Angel. Come to think about it, I haven't had anything really tasty there + They put too much oil in salads. But anyway, there I started to think about last weekend. On friday, we started our night out at the new winery (?quality wines offering cafe?) Musi, located on Niguliste street. Luckily we booked in advance, it was full house all the time. Planning to visit several other cafes, we only ordered two glasses of white Tommasi (one of two white wines available to order per glass). Probably that was the reason of not-so-excellent service. Actually, it was funny. They didn't even listen to us, instead, one of the waiters was running around the place, being very excited about what was going on outside. A car was towed away or something like that. They finally brought us the bill, 130 kroon's and the wine even wasn't that good. Probably we're not going back.
We continued our journey in Angel. It was a really cold night, therefore we decided to have some hot drinks. I went for Buena Note, which was hot milk with Baileys and Amaretto. Quite good. Since we got the corner table, and our waiter was Madis from Baar show (whom we don't really like), we decided to leave soon.
Next stop was Lounge 8, located next to Club Hollywood. I really like the place for the food, service and drinks. We had a Club Sandwich, some Cuba Libres and some Boulard calvados with Sprite. It was really comfy since they gave us a table with big sofas. Certainly, the best place that evening. Positive thing is also that they have an entrance to Club Hollywood.
Well, we finished the night in Moskva. They had Connections party there, the dj played r'n'b, hip-hop style music, which was actually really nice. Not so much people, which is usual for Moskva parties + a free entrance for cardholders. Went home around 4 or 5 AM, it was a fun night out.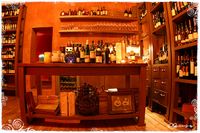 Musi