South Estonia part 2
Our southern estonian roadtrip continued from Tartu to Otepaa. As these two cities are only about 50 kilometres apart, it only takes about half an hour until our winter capital welcomes you. If you haven't been there, I strongly suggest it to you. A nice little snowy city with friendly atmosphere and wild nightlife - awesome:) Anyway, we went there to ski and snowboard, but as it somehow always happens, the mountains become secondary..
We stayed in this nice little place called Edgari guesthouse. It's situated right in the middle of the main street next to the infamous Help nightclub. The price was 800 for two nights and two persons, meaning 200 per face per night. The rooms look good, their clean and warm. We had a shower, tv and a little kitchen corner with fridge and everything. I'd say it's quite a good price, and it's in the top-high season.
As we arrived friday night and opened our first bottles of beer, we had no idea, how strong hangover we would be having the next day. Anyway, we started from Help club at about 11, since they have free entrance until midnight. We had some drinks and played some pool, and continued to Comeback, the bigger club. In Comeback, the ticket was 100, but it's always good to know some locals, this might get you in free. And meeting locals is really easy, because they tend to be really friendly and outgoing. The DJ was playing some funny music like 90's estonian pop and cancan, so we took a taxi back to Help. So for 500 estonian kroons, we had a really fun night out for two. So, if you want to do some big pimpin with little money, go to Otepaa:)
By the way - we went skiing/boarding to Kuutsemae (190 for a day-ticket and the food and drinks are really cheap in the pub). It was sooo crowded. If you decide to go, don't do it in the weekend.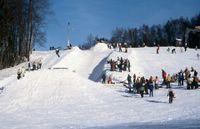 Kuutsemae