BabyBack
Tabasalu is about 20-30 minute drive from the centre of Tallinn (near Rocca al Mare and Oismae). You've probably never been there - however, now there is a reason to go. Two new restaurants were opened there last year. One of them is a posh spanish restaurant Manolete and the other is an american steakhouse BabyBack Ribs & Barbeque. I went to BabyBack and came back with great mood and full stomach. I suspect one of the owners has lived in America, because it very authentically resembles the highway diners in the states. I myself came from Florida about a month ago, and we've been disussing with friends about Estonian food and restaurant culture - just a place like BabyBack was missing. A lot of good food with incredibly friendly atmosphere. There are a couple of minuses as well - the location, the prices and availability. It's always full and if you want to go, you should probably book in advance. Prices are one the highest among Tallinn restaurants. For example, we had a full rack of BabyBack BBQ Ribs and it was 312,- (about 20 euros), also Creole Gumbo, a seafood soup (which I wouldn't recommend) for 48 kroons (about 3 euros) and House Burger De Luxe XXXL for 165.- (11 euros). Ribs were delicious, but I'd really like to talk about the burger. It was the biggest and best burger I had ever seen. Three nice oven-warm golden buns, a lot of salad, fries and about half a kilo of meat. As the waitress said, no-one has ever managed to eat the whole burger.
BabyBack also has a decent drink-list, a bottle of Corona is 40 kroons (3 euros) and Bud is 30 kroons. Unfortunately they don't have Coors (which is in my opinion the best american beer).
The last nice thing I noticed about this place - they give you a doggy-bag, meaning you can take your food leftovers at home. I believe BabyBack is the only place in Estonia offering this.
Alltogether - I definately recommend it, a really cool place.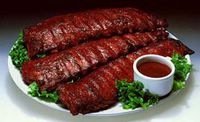 Ribs in BabyBack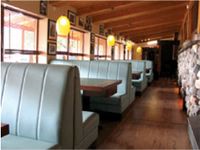 BabyBack